Welcome to the USS Alabama!
The Alabama was named after the 22nd state to join the United States and is the 8th ship to carry the name since 1819.

The Nebula Class ship is a multi-functional ship thanks to the mission specific Pod that can be changed out whenever needed. We can do anything from colonization and troop transport to a mobile hospital support ship to Deep Space Exploration.

The Alabama is a freshly commissioned ship that has been assigned to Task Force 37 in the Delta Quadrant. We are looking at expanding upon what the USS Voyager was able to gather on their way back to the Alpha Quadrant 16 years ago.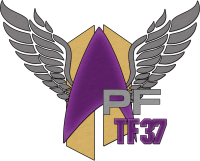 Latest News Items
Posted on Thu May 30th, 2019 @ 11:46pm by Captain Andreas O'Shaunessy in General News
Good Day Everyone,

Please help me welcome our 2 newest players.

Lieutenant Commander Tyron Ral, who is our Chief Strategic Operations Officer/2nd Officer. I apologize for not putting this out prior to our mission briefing JP.

Petty Officer 1st Class Jacob (Jake) Powell Jr. has just joined us as our Security Investigations Officer.

Kind Regards,

Captain O'Shaunessy
Posted on Thu Jan 31st, 2019 @ 12:27am by Captain Andreas O'Shaunessy in Sim Announcement
Good Day Everyone,

I've been a little lax regarding Awards, for that I apologize. I've restarted giving them out and plan to do so every month moving forward.

Please help me in congratulating Lieutenant Skie-Cloud for receiving the Post Master Award and Lieutenant Taggart for receiving the Captain's Merit Award for their contributions to the Alabama during the month of January.

Captain Andreas O'Shaunessy
Posted on Thu Nov 8th, 2018 @ 3:26am by Captain Andreas O'Shaunessy in General News
We're on our way back to Iota Command to get our new orders. Please take part in the group JP to get us back to the station.

Once this JP is out of the way, I encourage everyone to do at least one shameless character development post. If anyone wants to a JP with the CO, feel free to make a start and send me a tag.

Kind Regards,

Richard, AKA Andreas.
Posted on Fri May 11th, 2018 @ 12:47am by Captain Andreas O'Shaunessy in Sim Announcement
Good Day, Folks.

We've had a couple of changes this week.

We were down a player earlier in the week, but gained another today.

Please help me in welcoming LT(jg) James Wesley, our new Chief Intelligence Officer.

I just confirmed that we have been upgraded to Operational/Active on the PF site today as well.

This is thanks to all of you and I would like to thank you all for being here and being as active as you have been over the last 6 weeks.

Kind Regards,

Richard aka Andreas
Posted on Tue May 1st, 2018 @ 12:44pm by Captain Andreas O'Shaunessy in General News
Good Day,

As some of you saw on the Alabama's discord channel a few hours ago, we have a new player.

Please help me welcome our new Chief Engineer, LT(jg) Dave, also known as cmdrlanc on discord.

With our newest crew member, we're now at 6 players. :)

Richard aka Andreas
Latest Personal Logs
Posted on Fri Mar 22nd, 2019 @ 10:59pm by Lieutenant Commander Tyron Ral
"Computer, begin log for Lieutenant Commander Tyron Ral, Stardate: 70221.0," Ral said as he sat in the chair behind the desk in his new office.

"Begin when ready," came the familiar reply from the computer.

"Well, here are the inner thoughts of a newly promoted lieutenant commander on the USS…
Posted on Thu Dec 27th, 2018 @ 5:19pm by Lieutenant JG Judah Taggart
Judah sat down at his desk in his quarters, with a cup of old-fashioned sweet tea, and began reviewing the personnel qualifications, after about an hour he had a list of things to begin training.

Though Starfleet required yearly qualifications with crew serve weapons Judah always felt more comfortable when…
Posted on Tue Dec 18th, 2018 @ 1:57am by Captain Andreas O'Shaunessy
Looking up at the ceiling in reflection, Andreas opened a personal log.

"I have to say the crew worked incredibly well together on our shakedown cruise. It was reasonably uneventful, but the crew handled everything that came our way with efficiency and gelled better than any Commander could hope for.…
Posted on Tue Sep 25th, 2018 @ 7:38pm by Lieutenant JG Judah Taggart
Judah stood on the Observation Deck of Iota, staring at the stars. An unbidden tear fell slowly as he once again thought of his father, he would have been proud to know Judah was being assigned to the Alabama, the namesake of the family's home state.

His father had been…
Posted on Wed Apr 11th, 2018 @ 2:34am by Lieutenant JG Wyatt Beck
Personal Log,
Beck, Wyatt, Lieutenant Junior Grade
Chief Security/Tactical Officer, USS Alabama.

Well, we're here. The USS Alabama. She's a lot bigger than our previous posting. The Sagan was an old Constellation class explorer, aging but reliable. Sometimes I miss the old girl, but she's gone for the scrap yard…